---
About This Website
---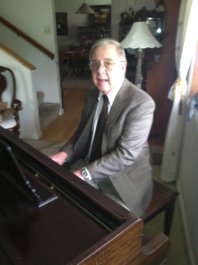 I hope that this website is providing you with useful information, tools and resources to help you explore, develop and attain your musical aspirations.
I'm a composer/arranger and have commercially played piano and keyboards throughout the Baltimore/Washington metropolitan area for over 30 years. I've received a BM and MM in composition/piano from the Manhattan School of Music in New York City and was a staff arranger/composer at the US Navy Band (Washington, D.C.) for over 20 years.
I have hundreds of piano publications as well as many publications for woodwinds and various ensembles with Alfred Music, Tuba Euphonium Press, Manduca Publications, Shawnee Press, Dorn Publications and Hal Leonard, Inc.
I've also taught piano for over 22 years in the Baltimore / Washington, DC metropolitan area.
RALPH MARTINO
---
Everything You Need To Know To
Build An Online Business!

---
If you would like to be updated as pages are added and this site grows, please:
---