---
Major Keys
Major Keys with Sharps
---

Major Keys with Flats
---
Minor Keys
Minor Keys & Relative Minors
All MAJOR KEYS have related RELATIVE MINOR KEYS and share a
common signature.
The 6th step of a MAJOR SCALE is the starting note of it's
RELATIVE MINOR SCALE.

For example, the C major scale is:

C - D - E - F - G - A - B -C

The 6th step is A, so the RELATIVE MINOR of C MAJOR is A MINOR:

A - B - C - D - E - F - G - A

The key of C major has no sharps or flats, same with Am.
The following shows all of the MAJOR KEYS along with their RELATIVE MINORS.
The scale for each MINOR KEY starts on the 6th step of it's RELATIVE MAJOR.
Keys with Sharps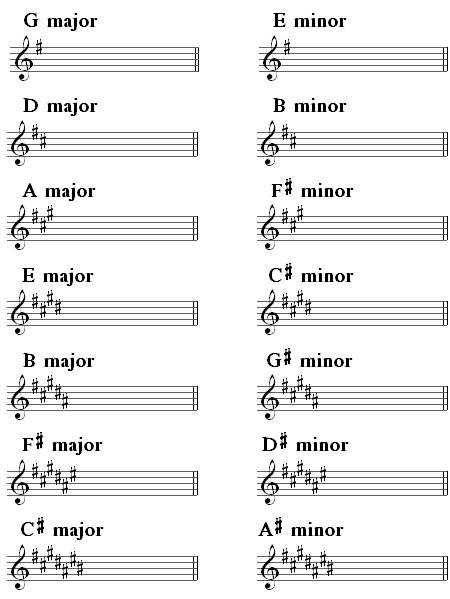 Keys with Flats
Go ahead to CIRCLE of FIFTHS.
---
FREE DOWNLOAD: Key Sigs. & Circle
Get Key Signatures Here:

For a more information about KEYS and the CIRCLE of 5ths click the icon to open the PDF file in a new browser window... You can then save a copy or print a hard copy of the included sheets.
---
Each key, and the order in which the sharps or flats appear, is very closely related to, and based on the Circle of 5ths.
Go ahead to CIRCLE of FIFTHS.
---