---
Key Signatures
---
Keys or Key Signatures: When a song (or any music) is built mostly on the notes of any particular scale, there is usually a KEY SIGNATURE at the beginning of the staff, right after the clef sign. It is a group of sharps or flats that are placed on the lines and spaces of the staff. It identifies which notes will be sharp or flat.

---
FREE DOWNLOAD: Key Sigs. & Circle
Get Key Signatures Here:

For a more information about KEYS and the CIRCLE of 5ths click the icon to open the PDF file in a new browser window... You can then save a copy or print a hard copy of the included sheets.
---
Major Keys
Major Keys with Sharps
---
Major Keys with Flats
---
Minor Keys
Minor Keys & Relative Minors
All MAJOR KEYS have related RELATIVE MINOR KEYS and share a
common signature.
The 6th step of a MAJOR SCALE is the starting note of it's
RELATIVE MINOR SCALE.

For example, the C major scale is:

C - D - E - F - G - A - B -C

The 6th step is A, so the RELATIVE MINOR of C MAJOR is A MINOR:

A - B - C - D - E - F - G - A

The key of C major has no sharps or flats, same with Am.
Keys with Sharps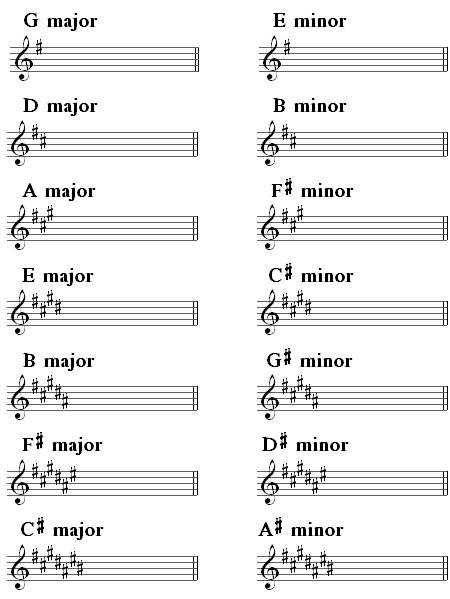 Keys with Flats
Go ahead to CIRCLE of FIFTHS.
---
Each key, and the order in which the sharps or flats appear, is very closely related to, and based on the Circle of 5ths.
Go ahead to CIRCLE of FIFTHS.
---