The above examples are given in the key of C. However they could be transposed to any key.
What follows is an excerpt from the song GEORGIA ON MY MIND. It was written in 1930 by Hoagy Carmichael (music) and Stuart Gorrell (lyrics). It is the official state song of Georgia.
The excerpt is in the key of F and contains 2 turnarounds. The first is in measures 7 & 8; the second is in measures 9 & 10.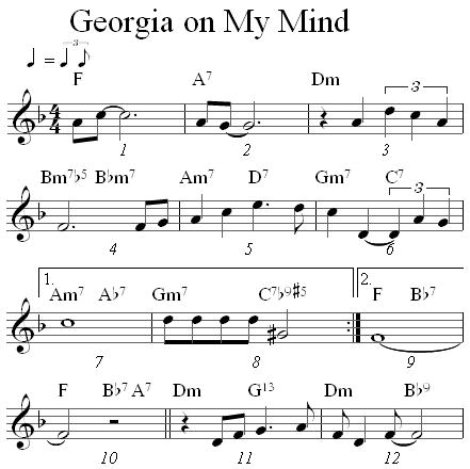 The turnaround in measures 7 & 8 is:
Am7-Ab7-Gm7-C7#5 (or iii7-bIII7-ii7-V7#5.)
Note that there is NO CONFLICT with the melody notes and the chord notes. Each melody note is a part of the chord. It sounds good!.
Any of the following could have also been used:
Examples A, B or C would have worked just as well. In each case the melody notes fit in the chords, and they sound OK.
The second turnaround in measures 9 & 10 is:
F-Bb7-F-Bb7-A7 (or I-IV7-I-IV7-III7.)
This leads into the bridge (middle section) of the song which begins in the key of D minor! That's why the last chord in this turnaround in A7. A7 is a secondary dominant, the dominant of D minor.
The following would have worked just as well. Once again, there are no conflicts with the melody note, and it sounds good!

---
Back to Turnaround Voicings (key of F)
---
***NOTE***
You can add your own FAVORITE TURNAROUND(S) Below! Just follow the instructions and fill out the form below and YOUR INPUT WILL BE ADDED HERE!
Add Your Favorite Turnarounds
Do you have some favorite turnarounds? The kind that make you say "Oh, yeah!!!..." and you just love to play? If so, share them here!
What Other Visitors Have Said
Click below to TURNAROUND patterns from other visitors to this page...

G Em C D

G Em C D
DC Schneider's Fav

C - Eb13 - Ab6/9 - Db13/Db7 Yeah! David from www.OdysseySeaGlass.com and www.Inside-Peru.com (delete these URLs :-)
---
---
---
---