---
PIANO MUSIC
---
methods - fake books - sheet music
keyboards, digital pianos & midi
---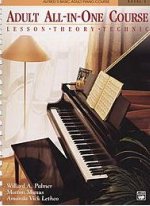 Alfred's Basic Adult All-in-One Course is designed for the beginner looking for a truly complete piano course that includes lesson, theory, technic and popular repertoire in one convenient, all-in-one book. This course has a number of features that make it particularly successful in achieving this goal, among them are smooth progression between concepts, the thorough explanation of chords and outstanding song material. At the completion of this course, the student will have learned to play some of the most popular music ever written and will have gained a thorough understanding of the basic concepts of music.


---
Accelerated Piano Adventures for the Older Beginner - International Edition by Nancy Faber and Randall Faber.
International Edition Book 1 covers fundamental rhythms, all the notes of the grand staff, C position, G position.
International Edition Book 2 covers major and minor pentatonic scales; intervals through the 6th; C, G, and F major scales.
---
Finger Aerobics, Bk 1

Exercises designed to develop strength, flexibility and agility, and coordinated page-by-page with Alfred's Basic Adult Piano Course. These exercises make a great warm-up and conditioner for the hands during practice time.
---
J. S. Bach Piano Masterworks 


pub. G. Henle Verlag
Italian Concerto BWV 971
Italian Concerto French Overture Four Duets Goldberg Variations
English Suites Bwv 806-811
French Suites BWV 812-817
---
---
HighlyRecommended
Piano Music, Adult Methods, Fake Books,
Gospel etc....
check out these links:
Piano Methods. Over 80 different instructional methods, including Bastien, Faber and Celebrate Piano. Shop now!
Fake Books at Amazon. Improvise and jam with our great fake book selection - all styles, all keys, lots of artists. Go now!
Christian Sheet Music Traditional, contemporary, praise, gospel, choral, accompaniment CDs and more at Amazon. Go now!
Christmas Sheet Music for piano, guitar, vocal, choral, ensembles, instrumental and more at Amazon. Go now!
Hanon: The Virtuoso Pianist, complete
Burgmuller, Czerny & Hanon: Piano Studies Selected for Technique and Musicality, Volume 1
---